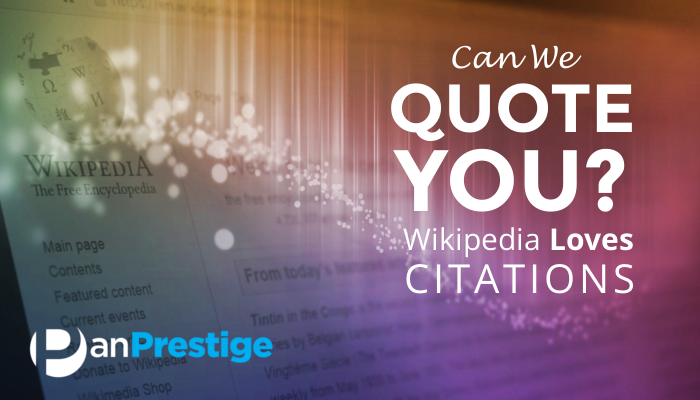 There are many portals into the powerful Wikipedia ecosystem, and you'd be selling yourself short not to explore them all.
Wikipedia has the power to boost your online reputation like no other website in the world. For sheer audience size, credibility, and SEO firepower, Wikipedia is unparalleled.
[Read my last column, 4 Reasons You Must Harness the Titanic Branding Power of Wikipedia]
Many business people, if they use Wikipedia as a reputation booster at all, confine themselves to an entry for themselves, their company, their product or their cause. Gaining approval for such entries can be tricky, so most executives don't bother.
But whether you already have a Wikipedia entry, or you think – rightly or wrongly – that you can't qualify for a Wikipedia article – that's no reason not to be highly visible on the site.
The Wikipedia modus operandi relies on verifiable third-party references. Because it's a communal encyclopedia, Wikipedia does not publish original research. Even if you are a brain surgeon writing on brain surgery, Wikipedia wants you to publish your expertise elsewhere, and then cite that source material on a Wikipedia entry.
Do you hear opportunity knocking? You should.
When you contribute an article to a professional trade magazine or reliable website, for example, that instantly qualifies you to be a source cited by Wikipedia.
Let's assume, for the sake of illustration, that you are an oral health provider who specializes in dental implants. There is a lengthy Wikipedia entry under the heading, "Dental Implant" that is a definitive monograph on the topic. Both dentists and consumers with questions about dental implants will likely find what they're looking for here.
Indeed, when you search for "dental implants" on Google, it's the Wikipedia article that comes up #1 in the organic search results.
What You Can Learn From Dental Implants
As of this writing, there are 53 references cited in the Wikipedia dental implants article, the majority of which come from dental journals and academic papers. But my eye is drawn to reference #33 – "Focus on implant home care before, during, and after restoration." This article was published in 2012 in RDH, a dental trade magazine, and was written by Susan Wingrove, who describes herself as a "national and international speaker and practicing dental hygienist."
What a great visibility booster for Ms. Wingrove, who herself does not have a Wikipedia listing.
I don't know Ms. Wingrove nor had I ever heard of her prior to this writing. I discovered her on Wikipedia just like thousands of others interested in dental implants might first find her.
It's obvious that Ms. Wingrove didn't write an article for RDH magazine and then cite herself on the Wikipedia entry for dental implants. But she could have.
Ms. Wingrove's bio notes that not only is she an established public speaker, but she is also a published author, has written for respected dental journals, and is an entrepreneur. That begs the question why doesn't she have her own Wikipedia entry? She's certainly is eligible.
The key point here is that on Wikipedia, it's easy to cite yourself on other people's listings – and thus significantly bolster your online visibility. The lesson applies not only to articles that you've authored, but also to news organizations that quote you or blogs that mention you.
Answer These 4 Questions
Ready to try it out? Ask yourself these questions:
Have I authored a published article for a trade magazine, newspaper, or academic journal?
Have I been interviewed in print or on television by a local, regional or national news organization?
Have influential bloggers, review sites, or other respected websites mentioned my name?
Do I own or have access to a respected website where I can post a story under my name?
If the answer to any of these is yes, then you should seek out existing Wikipedia entries where the topics are relevant. Once you locate them, it's a snap to add content and a citation to your previously published online appearances. [Remember the entries you'll use have already been "approved." You're simply updating them.]
Where might you mine for such articles? In Ms. Wingrove's example, here are only a few possible Wikipedia pages where I think she could contribute content and citations:
The opportunities for visibility on Wikipedia are numerous and limited only by your willingness to search them out. Happy hunting!
Read my last column, 4 Reasons You Must Harness the Titanic Branding Power of Wikipedia
[In my next column, I will explain why the best Wikipedia strategy requires an alliance with like-minded individuals. I'll also provide you an opportunity to connect with others seeking to use Wikipedia to maximize their online visibility.]
If you would like a strong Wikipedia presence to strengthen your personal or business brand, I encourage you to contact Pan Prestige to discover how we can make getting your own Wikipedia listings and citations pain-free. If you already have one or more Wikipedia pages, contact us for a free evaluation of how effectively you're harnessing the titanic power of the service.