When you need to be seen as a top expert in your industry or professional field, we deliver an unrivaled online reputation infrastructure and supplement it with frequent content updates that shout: "I'm A Thought Leader."
We begin with the powerful reputation foundation steps
You get an individual phone consultation with one of our company founders. It will help us to understand your goals and how you want to be known online.
Creation of a turnkey, cutting-edge website (including content) that meets your unique needs and targets your desired audience.
Our professional writers craft a set of custom "Bio" or "About" pages that reflect the dignity and cachet that you deserve.
We will redesign your existing profiles and publish your distinctive biographical story on the major social networks.
SEARCH ENGINE OPTIMIZATION
Strategically link all of your web properties together, making it nearly impossible for the search engines to overlook your importance.
We'll engage readers and prospects by continuously generating the custom-crafted content you want people to find. Then we'll make sure they find it.
We will write two original and compelling blog posts per month and post them to your personal website (the one that we designed for you). The posts will be about topics that are relevant to your site visitors. Each blog post will be optimized to specific keywords in order to continually increase organic traffic to your website. You will approve all of the posts before publishing.
We will keep your social media profiles active, relevant, and up-to-date by posting daily to your main accounts: LinkedIn, Twitter, Facebook and Google+. We know how to find the most engaging and viral content that pertains to your audience.
We will keep you updated every step of the way..
We'll Reinforce the Value of This Advanced Plan By Providing You Monthly Progress Reports.
30 minutes consultation
Personal domain name
Personal website creation
Web hosting
Custom "Bio" and "About" pages
Social profiles optimization
Industry and general profiles creation
Search engines optimization
Ghostwriting: Two blog posts per month
Social Media Management: Daily posting
Monthly progress report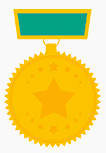 100% Satisfaction Guarantee

We want to have 100% happy clients so if after 14 days you will not be happy with our service, you'll get all your money back, guaranteed. What do you have to lose?